Mr. Potts and I went to the mall on Sunday to return a few Christmas gifts and to see if there was anything we could find to replace these things.
When we walked into Banana Republic I saw a few things that caught my eye, but nothing that screamed, "BUY ME!!!"
Until I laid eyes on this jacket. It was like it had a spotlight shining down on it & I swear, I heard the baby angels singing.
In slow motion (in my mind at least) I reached out to touch it and felt the leather melt into my hands. You know, like
buttah
.
Pulling the jacket open, I saw a slight lining and knew I had to try it on. Pulling Mr. Potts over, I showed him the jacket. And I swear, he saw the gleam in my eyes.
I pulled it on and fell in love.
You know how a woman should always have a fabulous jacket? One that makes them feel hot, sexy, tough, sweet, smart, sophisticated? Sometimes it's tough to imagine all of that in one jacket.
When I turned around to look in the mirror (again, in slow motion in my mind with the baby angels singing and suddenly, a glow surrounding me) I knew I had hit the motherload. The proverbial nail on the head.
This was the perfect jacket and I knew I had to have it. I had gift cards, I had Banana dollars (it's a perk of having a card that earns points) and I had a 25% off coupon.
It was mine.
Isn't she beautiful?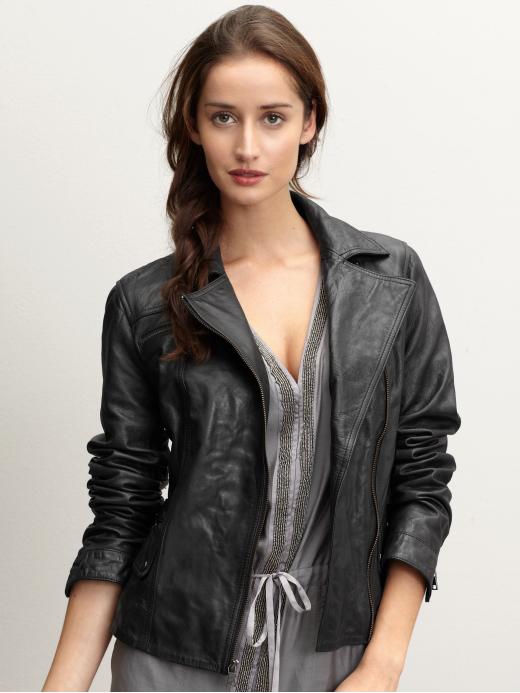 via
I can't wait to break her out. Perhaps this weekend?
Any great post-holiday finds you've made?