The Undomestic Momma hosts Top 2 Tuesday each week. I don't believe I've ever participated before, but I thought this one would be fun - pick your top 2 baby names.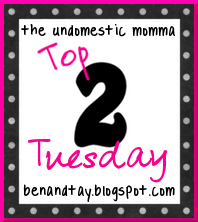 Some of you may be pondering my choice in participating since Mr. Potts & I won't be creating any little potts or pans (I made a funny, you can laugh, I did!). Even though little ones of our own won't be gracing our household doesn't mean that I can't have favorite baby names.
So, if we were ever to have a little girl munchkin, she would be named
Katherine Ann
. Katherine is his grandmother's middle name & Ann is my middle name passed down from my mom.
I couldn't go with a name after my grandmother - Gertrude anyone? Gert? Gertie? Trudie? Probably not, huh?
If there were ever a little boy munchkin, he would be named
Preston Michael
. Michael because it is a good name & Preston was my grandfather's middle name (we'd HAVE to go with the middle since his first name was Harvey). Plus, if we went that route, he'd totally be a PIMP because his initials would be PMP.
Yep, I just went there. I'm a dork.
On a serious side note, though,
what was it
with the naming of that generation? I also had an aunt Lucille & an uncle Horace!
But it is OK - remember - not procreating!
So if any of you love these names, please feel free to take them & use them. If you choose Gertrude or Harvey, however, I'm not taking the blame!