Top Two Tuesday is hosted by Taylor over at
the undomestic momma
and has looked like fun over the past few weeks. This week's topic is Top Two Favorite Stores.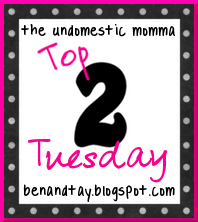 When I started thinking about this, my mind went to food. I started thinking about the specialty shops that I love to browse for foods - Whole Foods and my local Farmer's Markets and on the other end of the spectrum, Crate & Barrel, Williams-Sonoma, etc.

Then I thought I could go towards shopping - you know: clothes, makeup, shoes, etc. I could lean towards small, local boutiques or big sprawling super stores.

I had a bit of a rough time (can you tell I can't make decisions??) but finally narrowed it down to these two as my favorite stores to shop at:

Nordstrom
I absolutely love that I can go there for pretty dresses,
jeans
, makeup,
unbelieveable handbags
,
fabulous shoes
& have coffee once I'm done shopping!
Williams-Sonoma
I love the selection of cookware and bakeware - a girl can dream of uber nice pots & pans without being able to afford them. *Sigh*
I love the appliances & the gadgets. I love the food selections (HELLO
Sprinkles cupcakes
to go into a bridal shower gift!) & the table linens.
I could spend days in there!
Thankfully our Williams-Sonoma is very close to our Nordstrom. Fulfilling wishes a few at a time.