My friend, BEG at
Brown Eyed Girl
tagged me for the Premium Meme award. In accepting this, I must list 7 traits about myself and then pass the award onto 7 other bloggers who deserve recognition for the personality they share through their blog.
If you haven't visited BEG, make sure that you go & say hello. She is in the midst of planning a
staycation
& regularly posts Menu Mondays - I've definitely gotten some good ideas from her!
I've done a few of these, where you reveal things about yourself. I'm not sure what I have left that I haven't revealed, but I'll give it my best.
1. I have neat handwriting.
I usually get compliments on it & I tell people I learned from my mother. She has great handwriting - she addressed our wedding invitations for us.
2. I consider myself an excellent driver.
Mr. Potts agrees - henceforth the reason I am always the one driving. He tells me I'm much more relaxed, yet at the same time very aware of everything that goes on around me.
3. I'm trying to bribe Mr. Potts in to a new puppy (this means I'm not above using sneakiness).
We won't get one until I'm not traveling for work (which may be never considering the economy) because I'll have to be the one to train it. I asked him if I asked for a baby, could we have a puppy instead. No go on that one! I'm in love with Viszla's and Weimaraners.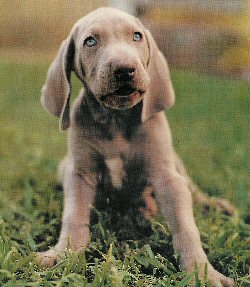 4. I like things in my house to be clean.
I am constantly spraying & wiping in the kitchen with the Clorox spray made for all surfaces.
5. Referencing back to #4 - While I may be someone who wants things clean, I'm not necessarily a neat freak.
Mr. Potts will fuss at me because our kitchen table will be taken over by purses and papers, the floor around it littered with shoes.
6. I get wonky little chin hairs which I'm OCD about plucking.
I have two that come in regularly that MUST be plucked immediately! I have a coarse little black one & a wiry little white one. By the time I'm 50, I'm going to have had electrolysis to get rid of my cheek/chin hairs otherwise I'll be able to join the circus as the bearded woman.
7. I am a lotion addict.
I keep lotion in my bag, in my laptop bag, on my desk, in a desk drawer and in every bathroom at home. Currently on my desk that I'm loving is Neutrogena comforting butter body cream. Perfect for my hands & nails since I am constantly washing them. Speaking of washing hands, how do people in a public bathroom just walk out of a stall, see someone washing their hands and then just wet their fingertips & run them through their hair? Nasty! I'm speaking specifically of women in my building who I see every day. You'd think there'd be
some
shame!
For this fun little tag, I pick the following:
Julie from
Wearing Mascara
Kirby from
Good Gals Inc
PP&MS from
Pink Pearls and Muddy Slippers
Brittany from
Living in the Moment
Emily from
From the land of cotton...
Kimmie from
Full Circle
Go visit these girls and say hi! I promise, you'll love them all!