Taylor over at
The Undomestic Momma
hosts Top 2 Tuesday. This week's topic is is Top 2 Beauty Secrets. Now, I don't know that I truly have many beauty secrets that I haven't already shared, but here goes: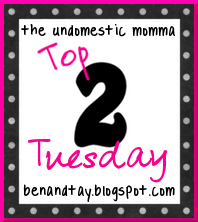 1. After cleaning my cast iron skillets I "season" them with oil. When I do this, I use a little of the extra oil & rub it into my cuticles. This is a great way to keep them moisturized & from cracking.

2. When out on the lake in the summer I keep a tube of deep conditioner in my bag. After jumping in & cooling off, I comb out my hair & apply the deep conditioner all over. Rolling it into a bun, I cover it with a hat. Easy way to deep condition & protect my hair.
This
tends to be my favorite!
Can you tell I'm all about the multi-tasking?
What are your beauty secrets? Any new ones out there for me? I'll usually carry a small jar of Vaseline with me when I travel & use it around my eyes at night to keep them from drying out.
See, now who loves you? Three tips on a Two-For-Tuesday!