Mr. Potts & I returned today from a weekend visit with his dad & step-mom in
Cashiers
. They're owners in The Registry Collection there and we try to go see them when they're in town. It's an easy 3 hour trip to see them there, rather than an 8 hour drive.
Our first night there (brrr...it was COLD!) we ate at
The Gamekeepers Tavern
which was phenomenal! I had an Osso Buco special that totally rocked my world! Mr. Potts had the Double Cut New Zealand Lamb Chops which were wonderful. I'm on a mission now to find an Osso Buco recipe that could come close to the perfection I had. If you have any recommendations or recipes you'd like to share, Mr. Potts (and I) would be very grateful!
It was so nice to be in the mountains. It was cold outside & we cozied up in front of the fire and watched football and chatted.
When we left this morning, I booked it down the mountain & got us home in under three hours. Several bad drivers out today, but they just got a "Thumbs Down" - I was too happy to tell them to "Have a Nice Day."
We went on our annual "Return to Steinmart" trip that we take every year. We tried this year to find a nicer store so that hopefully we wouldn't still walk out with over $200 worth of credit. I know that could sound ungrateful & I appreciate any gifts that we are given, but I wish that some gifts would be giftcards. To Sephora, Amazon, Target, etc.
I found a bag that I'll use for traveling (rather than take my nicer ones as the travel is a bit hard on them). It is a Steve Madden in a deep purple (eggplant maybe?) that I think will work well. Looks very similar to this one, only not patent.
We also headed to our local mall to exchange a few shirts for him & look for a new coat for me. All the travel I've done over the last 7 years have really banged up my coat that I've used for cold weather. It looks very similar to this one, only in a dark gray.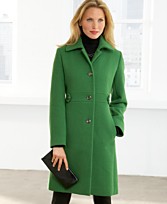 I was very pleased with my finds today.

How was your weekend? Are my resolution makers still our there?