This weekend in the mountains was totally relaxing.
We drove up on Friday afternoon and grilled out with his dad and step-mom. Had a bit of wine. So nice to sit out on the screened in porch & not wilt!
An interior view - the living room.
Slept in on Saturday and then "hiked" to a waterfall. I say "hiked" because it totally wasn't. I was in flat flip-flops. Hiking...Ha!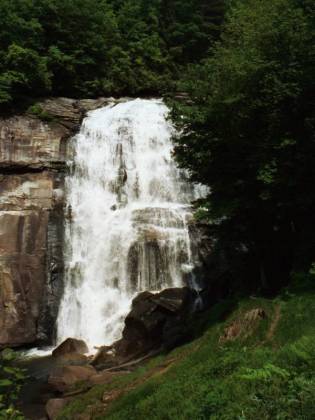 After our waterfall viewing we went back to the cabin (don't you like that word?) and changed to go to the pool. I was able to lay by a pool & enjoy 85 degree weather with no humidity. So nice! The pool area:
For the grand finale, we went to dinner at a restaurant on Saturday and had a wonderful table on the Verandah. Absolutely beautiful view & the food was fantastic!
After I leave the office today, I'm on my way to a massage.
Le Sigh! I think I should get a massage every week.