***Swap Note***
Don't forget to sign up for Brown Eyed Girl & my
Cookbook Swap
!
So many of you have been sharing such beautiful pictures of your homes decorated for Christmas. Your trees are gorgeous, your home decor is fun &
Kimmie
even put up pictures of Christmas foods (thanks Kimmie, my tummy is grumbling now!).
Mr. Potts and I will be out Saturday picking out our Christmas tree. We're going with a faux one instead of real. Easier that way (Pepe Cat & Hayden would kill it by drinking the water up in one fell slurp) and there are some really pretty ones out there.
I've got all the ornaments I received growing up from my mom and grandparents. We've got the 12 Days of Christmas from Meme. Mr. Potts' mom gave us some new ones as well this past weekend. We're going to have garland & some bows. I'm searching for a cupcake ornament - any suggestions of where to find one? I'd love one that is glass or enamel.
The big question? Colored or white lights?
I grew up with colored ones & I always loved turning off all the lights in the house & sitting with my mom watching the tree. Yet, as I've gotten older, I've grown to love the white lights also.
So, dear readers, this is where you come in. What do you like best? Colored or White? Blinking or Still? What suggestions do you have?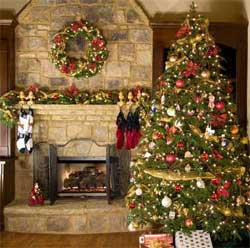 White lights
tree (how I wish I had a home like this with the fireplace & all).
Colored lights
What do you think? What will you be doing (or have already done)?