Happy Friday Everyone! It's here - another edition of Fabulous Friday! A highlight of all things fabulous that I've stumbled across over the course of this week (in no particular order, of course!) or even fond memories I have stored in my brain.
Since I know you're all eagerly awaiting this, the winner of yesterday's third Christmas Giveaway is d.a.r. of
Just Another Day in Paradise
!
d.a.r. was one of the first bloggers I began following when I started my blog. I loved reading her successes while her husband was away (thank you d.a.r.'s Hubby!) and I'll admit, being the emotional person that I am, I may have shed a tear (or 25+) when she wrote about her hubby coming home. And she loves shells & cheese - just like me!
d.a.r., please email me & send me your address so that I can get things mailed off to you.
I truly love Marie Claire, so much so, that I picked 3 additional winners to receive a year's subscription.
Brown Girl
,
Brown Eyed Girl
&
Kiwi s & Cocktails Ashley,
please email me so I can get your subscription started!
Fabulous Friday kicks off with this
sweater
I found at Banana Republic & snagged for 40% off. Love it! I was freezing cold in Maine & all I could think of was staying warm. This fit the bill.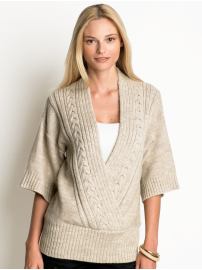 Cashmere sweaters at 40% off. Yes please!! Sweater for Mr. Potts - yep, you guessed it, 40% off.
You guys, I'm home, but exhausted. I'm finally warming up after freezing all week. I've got some prep work to do for our party tomorrow night. I'll make sure to share the snacks in a later post.
You'll forgive me if this is a short Fabulous Friday?
Happy Friday!