Happy Friday Everyone! It's here - another edition of Fabulous Friday! A highlight of all things fabulous that I've stumbled across over the course of this week (in no particular order, of course!) or even fond memories I have stored in my brain.
Since I know you're all eagerly awaiting this, the winner of yesterday's first Christmas Giveaway is MCW of
Saving the Best for Last...(fingers crossed!)
!
MCW is amazing, if you haven't been by her blog yet. She lives in NYC (so jealous!), goes to wonderful places and is hilariously funny - check out her post from
yesterday
and you'll see what I mean.
I always get so excited when I generate the random number for these giveaways! I love love love giving gifts, especially when I think other people will enjoy them. I often will give the gift within two days of buying it - probably why my Christmas shopping will wait until December 22nd. I might make it until Christmas if I wait until then. (
Tara
- I'm just like you in that I can't keep secrets like this!).
I'm so sad that I can't give something away to all of you - that would make me seriously happy. But you still have a chance at two more giveaways, the next one coming up next Thursday.
I have to say, I'm in love with Banana Republic and the way they've made shopping a little easier with their gift guide by
personality
. Since I'm heading up to Maine the week of the 14th, I'm especially in love with their more cozy items. Especially this yummy: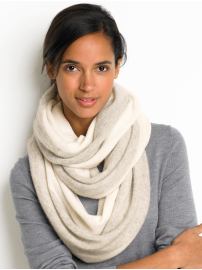 Cashmere? Check! Scarf? Check! Creamy color? Check!! Sign me up, please!!
This morning at 5am the alarm went off. Beyonce's Sweet Dreams began blaring (I really like that song & am going to have to download it for my workouts) & I sprang up in bed. Mr. Potts mumbled, "what time is it?". My response? "Early."
I got out of bed & got ready to go to the gym for a morning workout. Huge workout! I was so happy to be wearing one of my new tops - Under Armour has come out with a line of advanced tops (
Under Armour UA Tech
) that feel like cotton, but whisk the moisture (nice word for sweat, huh?) away from your body. Love them! They also have some that have sleeves as well.
Since winter is here (for some of us) & I'm dealing with wicked bad dry skin, I've been religiously using the
Boots amazon forest brazil nut & vanilla body butter
. I have a tub of it that I keep at my desk & use it after each time I wash my hands. This stuff is wonderful & smells amazing! You can find this at your local Target.
The other item that has made it's way back into my rotation? My
Philosophy Hope in a Jar
. I love love love this moisturizer. It is the only thing that keeps me from getting flaky in the winter. You can find this at Sephora if you want to try it & they'll give you a decent sized sample.
What have you found to be fabulous this week?
Happy Friday everyone! I hope you've got fun plans for the weekend.