Happy Friday Everyone! It's here - another edition of Fabulous Friday! A highlight of all things fabulous that I've stumbled across over the course of this week (in no particular order, of course!) or even fond memories I have stored in my brain.
Since I know you're all eagerly awaiting this, the winner of yesterday's second Christmas Giveaway is Lindsey of
Learning to be a Wife
! Lindsey has to be one of the sweetest people I've "met" through blogging & I am so happy that I did!!
A serious note to begin with. Yesterday a co-worker of mine learned that she has colon cancer & that it has spread to her liver. She has a 20 year old son who is currently in remission from cancer. If you all could lift her up in your prayers I'd greatly appreciate it.
Now on to the fabulously positive!
Our Annual Holiday Party is coming up next Saturday. I'm trying to figure out in advance what I want to wear. Some people will dress up, we'll have some in jeans & dressy tops & some may wear dresses. As hostess (hostess with the mostest - HA!) I like to dress up, but not go overboard so that our guests won't feel under-dressed.
I'm thinking of this little
sweater dress
with some tights. Easy, comfortable & comfy! Thoughts?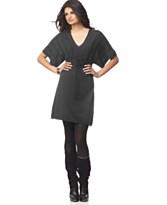 Whatever I wear for our party, I'll be sure to get my nails done. Most likely with
Essie Wild Thing
(yes, the same one that Lindsey is getting). The more I look at the color, the more I love it.
Don't you all get excited when you get tagged for an award? I love it. It's that little rush of "Yes! They like me!" I mean, for serious, doesn't it just make you feel GOOD when you scroll down and see your name? I always get the BIGGEST grin on my face! Both MCW & Landlocked Mermaid tagged me with the Happy 101 Award! I'll be sure to share this with you all tomorrow.
We received most of our furniture. We're missing the table & buffet, which I'm not happy about as we were told the table was in. And I REALLY wanted the table to be in for our party & for Christmas.
We did however receive the new living room furniture. I need to take some new pictures since when I took these, we didn't have any new lights for the room. Because of the lack of lighting, the couch looks slightly green. It isn't, just photographed that way.
The first view encompasses the "Captain's Chair" & the new sofa & coffee table.

Close up of the Captain's chair with my favorite throw on the back.

Pardon Hayden's hairy rear end in the picture, she wouldn't move.

I had to take a picture of our tree. We had to put off decorating it until this weekend (so the munchkins can help us) but we strung the extra lights on it. Isn't it pretty?
What has made your week fabulous?
Happy Friday!!